Why Choose EML to MBOX Converter for Mac?
The Mac utility has been designed for all users. Even you are a novice, you can operate the tool easily. It performs automatic conversion as you hit the conversion button. The app stores data quality.
Key Features of EML to MBOX Exporter for Mac
A Simple Application for Mac Users
The user-interactive feature of the app is appreciated by its users. The wizard is descriptive, telling you the steps to follow for conversion. You will find less difficulty in configuring and running the app independently on your Mac.
Export EML to MBOX in Bulk
Are you looking to export several EML files to MBOX? Leave the worry behind because the app gives batch migration support. Select one or many EML files to export safely to MBOX.
Export Filtered EML files
Whenever you launch the app, the first process is to browse and locate the specific EML file that you want to export to MBOX. Only filtered EML file is exported regardless of how old and big it is.
Conversion with Full Accuracy
Whether you choose batch migration or migration of one EML file to MBOX, both ways are safe. The software is capable to retain the original structure of each file. It retains email properties and gives a worry-free conversion goal.
Fit to Your Needs
The app fits your needs. It has been designed to be used by individuals, small businesses, and enterprises. It meets with your requirements of data conversion.
A Compatible Application
The software is compatible with several email client. It successfully transfers the data of Apple Mail, Thunderbird, Entourage, WLM and several other email clients with any error. You can open the exported data to any MBOX supported email client.
Why EML to MBOX Conversion?
How many of you know that MBOX is one of the most popular file formats for Apple Mail, Thunderbird, WLM and many other email clients. MBOX can store contacts, journals, and emails. EML doesn't contain contacts and journals. Many companies and individuals like to use MBOX. They want to export EML to MBOX.
Screenshots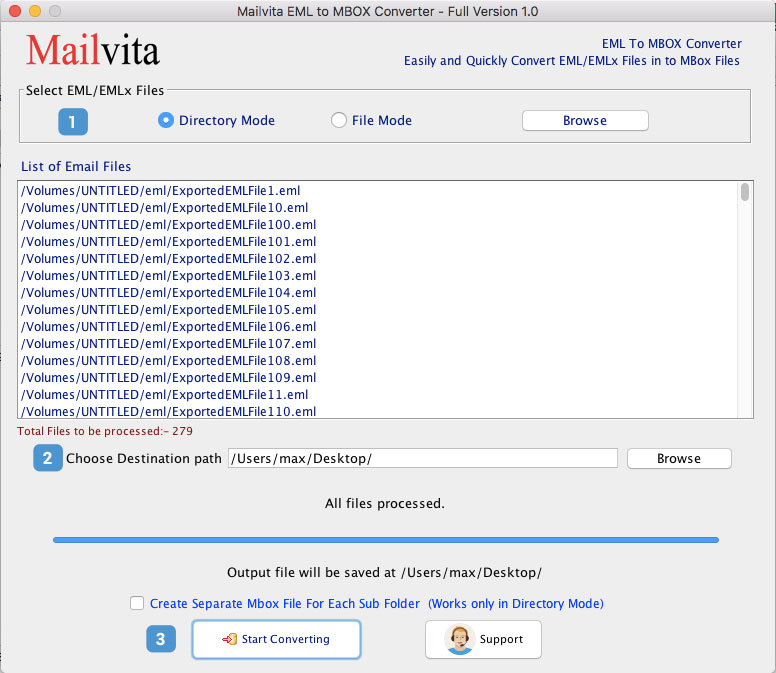 FAQs
Only healthy files can be exported safely by the application.
Yes, you can. The software reads all new and old EML files.
It is your choice. The tool supports batch conversion.
Benjamin
I have faced no problem in installing and configuring the app. As you said, it is lightweight and easy to run.
Charlotte
Feeling awesome that my decision to purchase EML to MBOX was correct. This is the value to money investment. I like its performance.
Ethan
I was looking for the export of EML files into MBOX format when our organization decided to move to MBOX format. After many searches, I got EML to MBOX Converter for Mac and this powerful tool worked flawlessly for me without missing any file.
Emily
I would give 4.5 stars out of 5 stars to the software for its flawless working. From installation to conversion, I found the tool easy to operate even without any technical skills.
Joseph
The smartly designed EML to MBOX Converter made my task easier that was assigned to me by my boss for migration of EML files into MBOX format. It is really an easy handling application that was well-developed by the developers so that the users will not face any data loss.