Why Choose PST Merger Application?
This is one of the best tools for Mac users who are looking to merge small PST files. The utility has the capacity to merge a number of PST files at once. It gives custom results. It keeps your data safe. The utility saves the merged PST files safely.
Prominent Key Features of PST Merger for Mac
Merge Filtered PST Files
The utility gives users full control over its features. It merges those PST files that users want. The foremost step is to filter data. This feature allows users to merge only filtered PST files.
Merge Entire Data or Selected Folders
The wizard of the app has several options to merge PST files. You are free to choose any of the given options to find the desired results. The utility can merge entire data. If you want to merge a special PST folder like Inbox, Outbox, and Contacts, the feature is also available. It gives you space to customize your merging operation.
Merge Multiple PST Files
The powerful utility can merge two and more than two PST files together. You can merge as many files as you wish. The utility reads and uploads both Unicode and ANSI versions. While merging, make sure the file size is standard to avoid data corruption.
Merge by Creating a Separate Folder for Each
With the help of this program, you can merge PST files but they are saved in a separate folder. It helps you to manage the data accurately. This is a user-friendly feature to save the merged data in a systematic manner.
Merge PST in the Same Folder
If you are looking to create one big PST file, the tool has the option to merge PST in the same folder. Mark the option before hitting the merge file tab. The utility will automatically create one big PST file.
User Interactive Feature
This is a lightweight app. The utility is well descriptive. It downloads and installs like other programs. The wizard of the app carries a few simple and easy to understand tabs. Novice can run the app independently.
Why Merge PST files?
Merging PST files gives you freedom from small sized PST files. These small files create data clutter which is intolerable many times. You want to get rid of, but the problem is that most of them are important. So, merging is the best solution.
Screenshots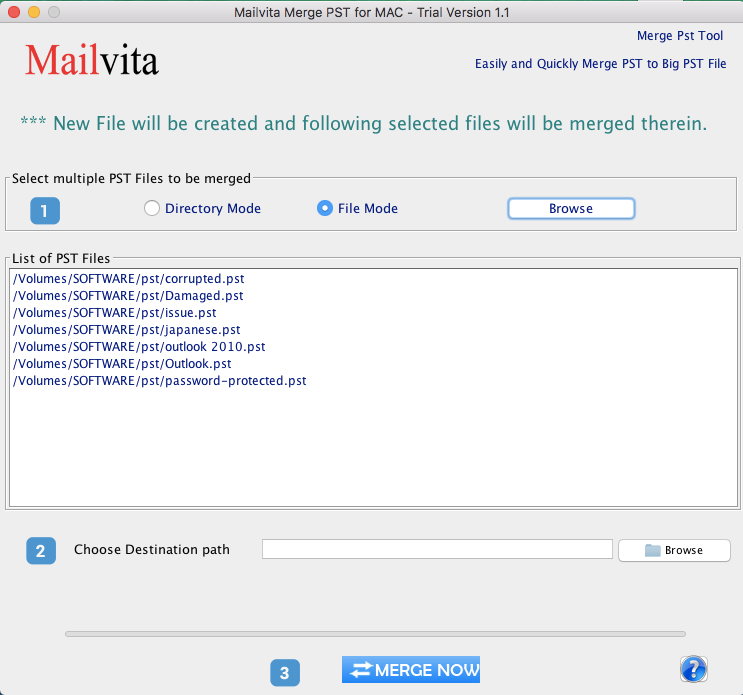 FAQs
You have the freedom to merge any PST file.
No, it doesn't support corrupted PST files.
It allows you to save PST creating separate PST folders and merge in the same folder.