Why Choose PST to EML Converter?
This is a Mac conversion app which takes just a few minutes to install and configure. The software has interactive wizards. You face no data conversion issue using this application. It migrates PST files of any size.
Prime Key Features of PST to EML for Mac
A Straightforward App
This is a straightforward application to use on any Mac platform. Users find no problem in installation and configuration of the app. It is a lightweight program to install quickly on your Mac without external support.
Export PST to EML/EMLX Only
The software has been designed to export PST to EML and PST to EMLX. You can export PST files regardless of their size. The utility is capable of exporting both new and archived PST files to access in Apple Mail, WLM, and any EML supported email client.
Convert Selected PST Files
The software gives you control to convert only those PST files that you wish to export. It has a file filter feature which is manually operated by users. The tool uploads the filtered PST files in just a few seconds to make it ready conversion.
Convert Data with Full Accuracy
The PST to EML converter retains original structure of PST files during migration. It keeps the file accuracy intact. No file data is corrupted. It transfers all email properties including CC, BCC, To, From and attachments.
Save Conversion to User's Defined Destination
The software asks you to choose the destination path to save the newly built EML file. You are free to save the data in a new folder or an already existed folder. It is safe to choose either way.
Other Advanced Features
The advanced PST to EML converter shows a preview of the selected PST file in its wizard. You can view the number of inbox files, deleted items, and outbox databases. It has an additional option to check or uncheck ignore empty folders.
Why Convert PST to EML?
A PST file is accessed and operated by only MS Outlook for Windows. When you want to open PST on any other email client, it needs conversion. With PST to EML converter, users can open MS Outlook files on Apple Mail, Thunderbird, and several other email clients.
Screenshots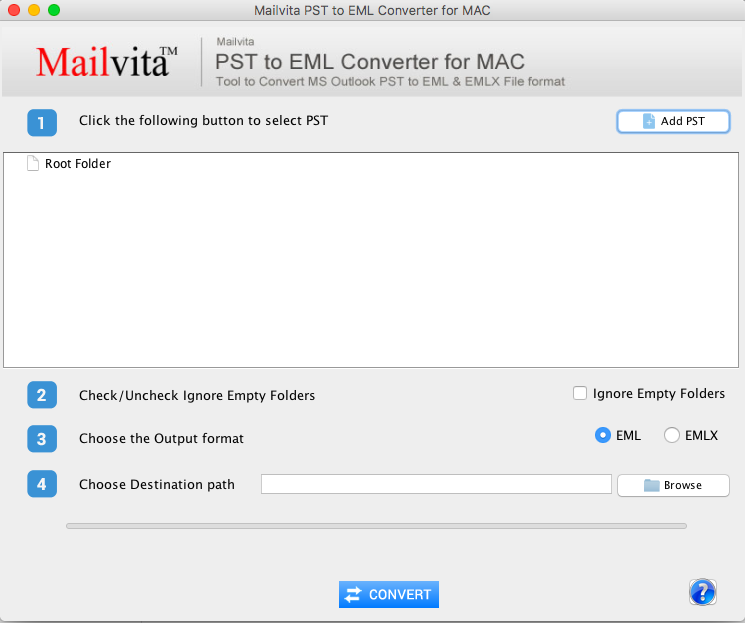 FAQs
It doesn't support data repair. You will have to first fix corruption using any other tool and then convert PST to EML.
This is a lightweight application. It doesn't make any change in the system performance.
The license of the application is valid for an unlimited period.